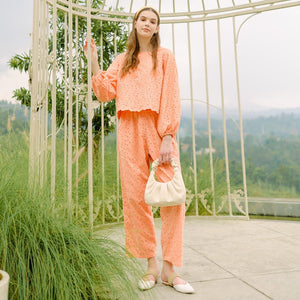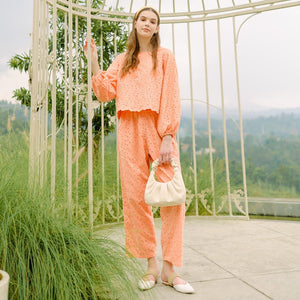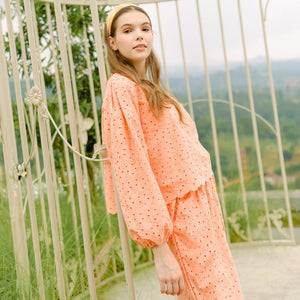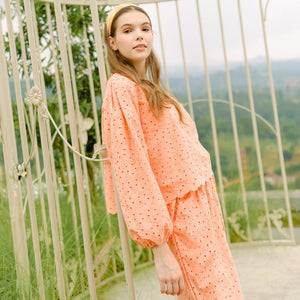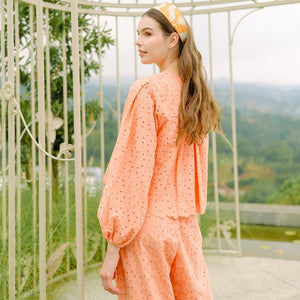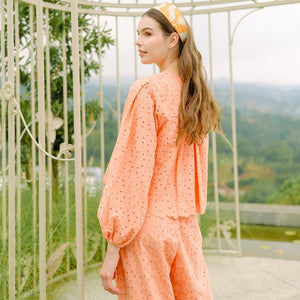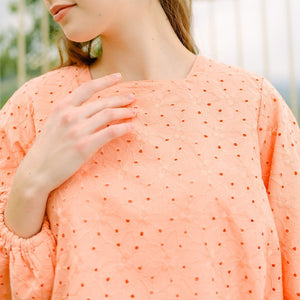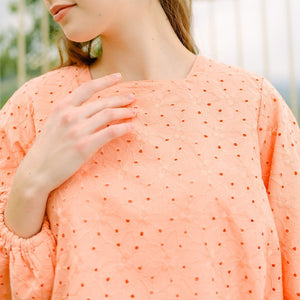 On Sale
Davira Peach Broderie Top
Look comfortable and stylish with one-of-a-kind broderie! Davira Peach Broderie Top merupakan salah satu koleksi yang wajib kamu punya, karena bahan broderie yang klasik. Memiliki siluet boxy dan lengan puff berkaret membuat detail baju ini lebih fresh. Kamu tidak perlu takut baju ini menerawang, karena dilapisi oleh furing yang cukup tebal di dalamnya. Furing juga akan membuat kamu lebih nyaman saat memakainya, karena tidak akan gatal ke kulit sedikitpun. Padukan Davira Peach Broderie Top dengan celana berpotongan lurus berwarna senada seperti Mavis Peach Broderie Pants untuk tampilan set yang berani, atau blue denim high waist untuk kesan yang lebih santai.
Look comfortable and stylish with a one-of-a-kind broderie! Davira Peach Broderie Top is one of the collections that you must have, because of the classic broderie material. It has a boxy silhouette and stretchy puff sleeves, making the details of this shirt fresher. You don't need to be afraid of this shirt becoming see-through, because it's covered in quite thick furing. Furing will also make you more comfortable when wearing it, because it will not make your skin feel itchy at all. Pair the Davira Peach Broderie Top with matching straight cut pants like Mavis Peach Broderie Pants for a bold set look, or blue high waisted denim for a more casual look.
Size Available : 


Fabric : 
Polyester


Fabric Detail : 
Soft & comfy fabric, non- textured, non-stretch, non-transparent 
Weight : 0.219 kg

Size Fitting :  This Article Is Fit Body. Please Refer To Bust Line And Upper Arm Length In Our Size Guide To Choose Your Size

Care :
Machine-washed but better hand-washed due to prevent fabric from damage, iron at medium temperature.


Important :
Bagi yang pesan untuk acara penting di hari tertentu, harap pesan minimal 7 hari sebelum acara tersebut dimulai dan konfirmasi terlebih dahulu mengenai estimasi lama pengiriman dari ekspedisi ke domisili alamat Anda.