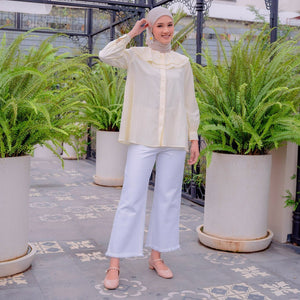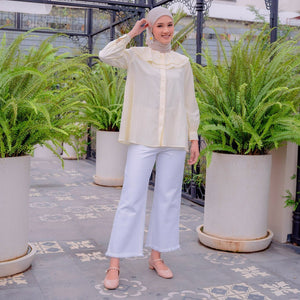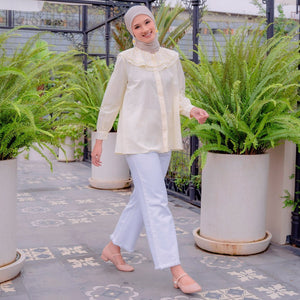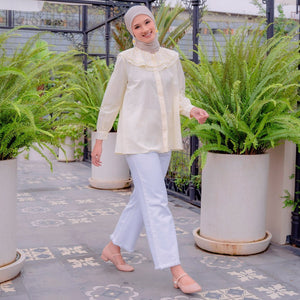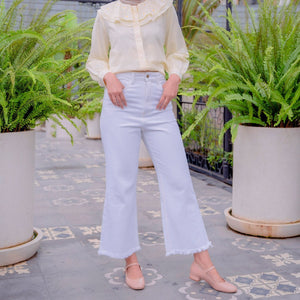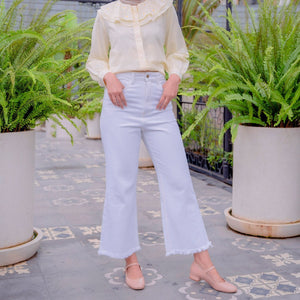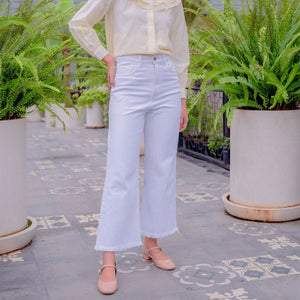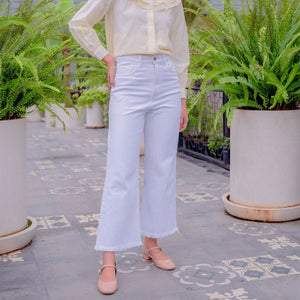 On Sale
Buttercup Broken White Denim
Jeans are always a good idea! Buttercup Broken White Denim merupakan salah satu koleksi denim berwarna broken white yang klasik dan versatile. Berbahan denim tebal namun tidak kaku ataupun keras, super nyaman, tidak mudah sobek, dan elegan. Denim ini memiliki detail saku depan belakang, hem unfinished, potongan lebar lurus. Tampil dengan vibes lebih kasual namun tetap catchy dengan memadukan Buttercup Broken White Denim bersama atasan berwarna netral-kontras seperti Enola Sea Green Top atau atasan bermotif dengan aksen ruffle seperti Qiandra Multicolor Blossom Top, mini handbag, juga hijab berwarna cerah yang soft seperti peach atau ivory..
Jeans are always a good idea! Buttercup Broken White Denim is a classic and versatile collection of broken white denim. Made of thick denim but not stiff or hard, super comfortable, not easy to tear, and elegant. This denim features front and back pocket details, unfinished hem, wide straight cut. Look more casual but catchy by combining Buttercup Broken White Denim with a contrasting neutral top such as the Enola Sea Green Top or a patterned top with ruffle accents such as the Qiandra Multicolor Blossom Top, mini handbag, and soft bright hijab such as peach or ivory..
Size Available : 


Fabric : 
Cotton Denim


Fabric Detail : 
Soft & comfy fabric, non- textured, non-stretch, non-transparent 
Weight : 0.500 kg

Size Fitting :  This Article Is Fit Body. Please Refer To Bust Line And Upper Arm Length In Our Size Guide To Choose Your Size

Care :
Machine-washed but better hand-washed due to prevent fabric from damage, iron at medium temperature.


Important :
Bagi yang pesan untuk acara penting di hari tertentu, harap pesan minimal 7 hari sebelum acara tersebut dimulai dan konfirmasi terlebih dahulu mengenai estimasi lama pengiriman dari ekspedisi ke domisili alamat Anda.